Nature Printing 101
Posted on July 9, 2017 by Michele in Relief Printmaking

My early introduction to printmaking occurred when I made a gelatin plate and used Speedball Block Printing Inks to create delicate and detailed prints of leaves, weeds, and grasses. I used some of the prints in a book that was featured in an international exhibition! Gelatin prints! I purchased the Gelli plate but really don't like it very much but it is very convenient and useful for quick experiments, which is what I did today. I have seen some complicated nature prints that clearly required several layers of printing and loved the challenge of figuring out how they were done. I think I have done that.

Negative prints reveal the outline of the leaf but as a stand-alone print it doesn't hold my interest for long.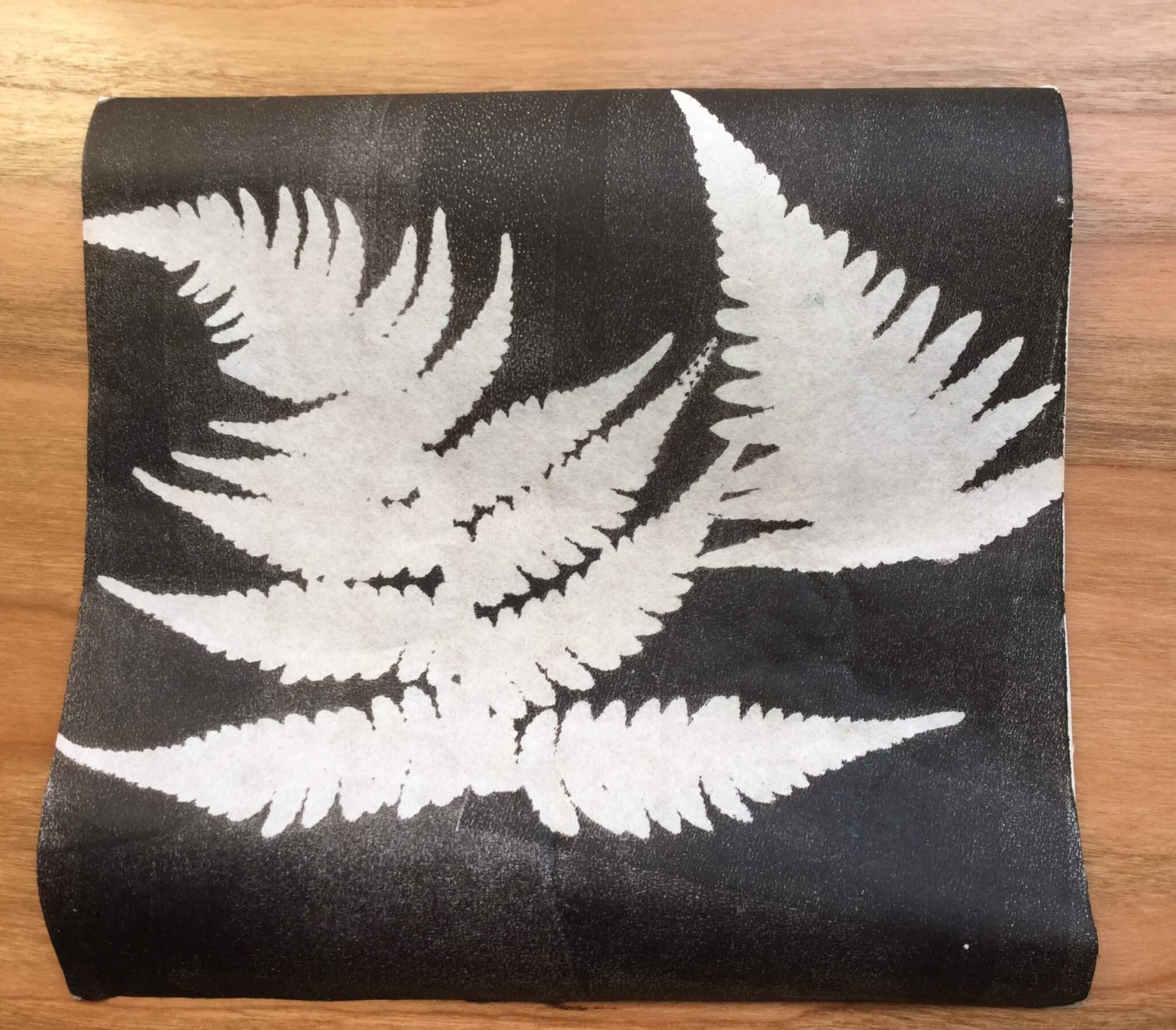 It gets more interesting when there are two printings off the same plate. This actually required that I make a negative print with the two background ferns (which was discarded). The ferns were removed from the plate leaving ink for a positive print and another fern and grass were placed on top to serve as a resist. Then I pressed it.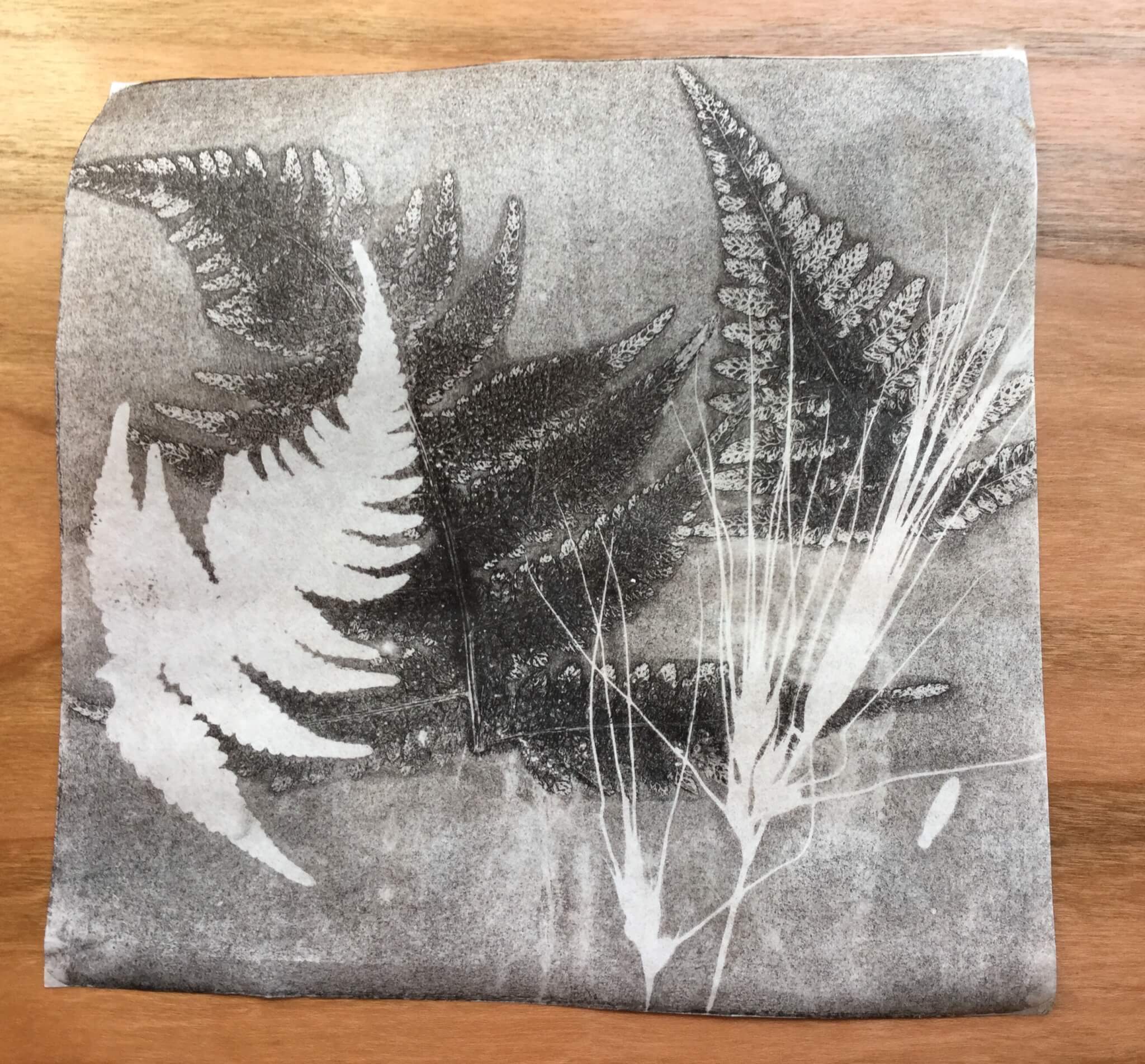 So now the challenge was to create the image below. It uses two colors, positive, negatives, and resists.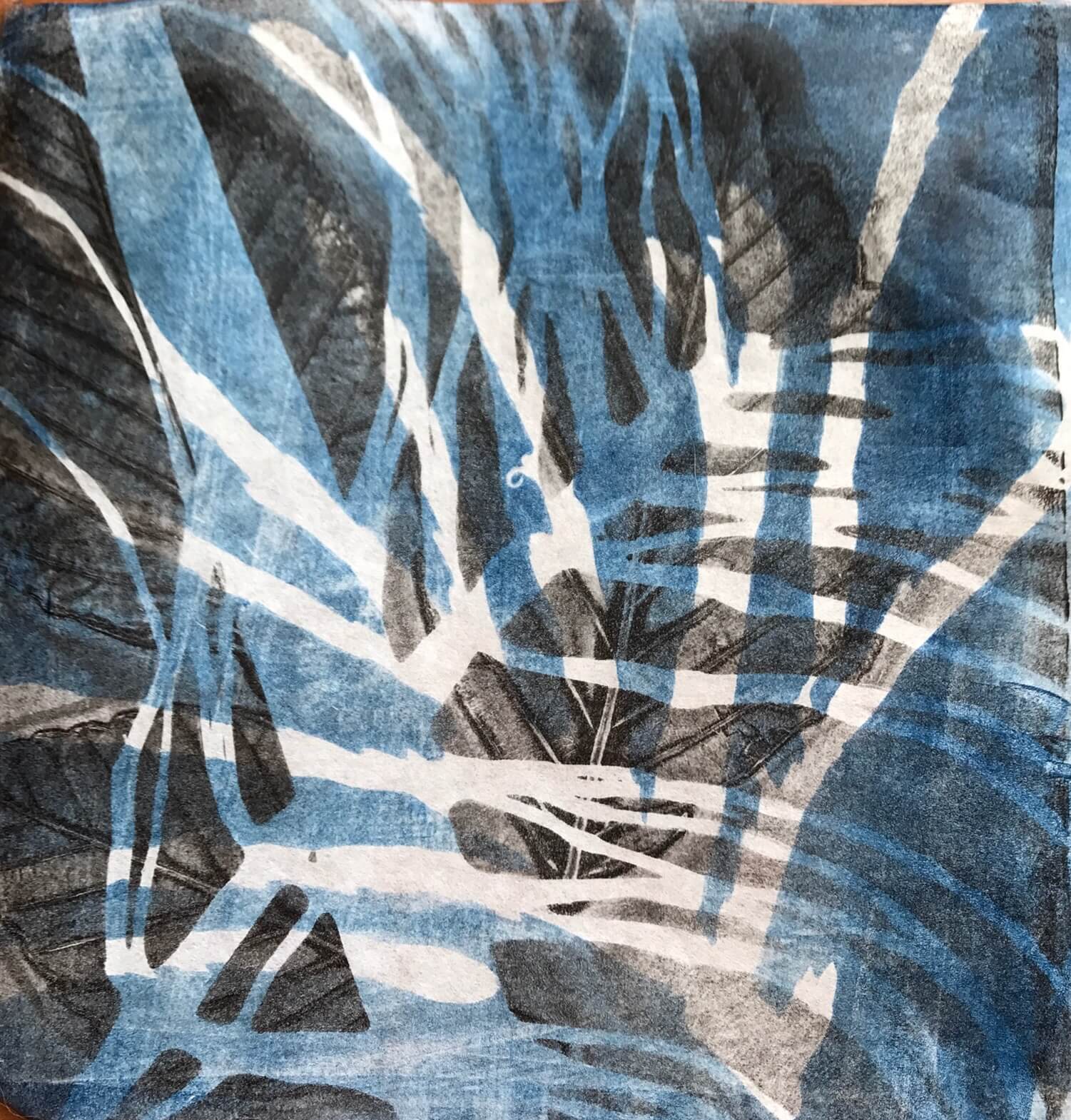 I am very happy with this because it means I have figured out the order and technique of each layer of printing (satisfies the mathematician in me) and it's intricate and complex enough to hold my attention (the artist in me). I used Daniel Smith Water Soluable Printing Inks (no longer made) which are vastly superior to the Speedball inks. I didn't pay too much attention to the composition because I was focusing on technique but next time I will use larger background vegetation (alder leaves printed in black in this print) and not use translucent medium on the black. I would also tone down the blue by adding more medium. There are two negatives in this print from two different color plates: grasses in the blue; horsetail in the black.
In this type of printing it is very important to have thin translucent layers to create the interplay of shapes. Inking the roller properly and not overloading the plate with ink is the most important part of the technique.
My next step is to use my etching press with oil based inks (Hanco). The paper I used today was very thin rice paper; the paper for the etching press will be damp Arches Cover that will add embossing to the print. I have moved my printing studio to the garage thanks to a husband who gave up some of his woodworking space. I pop up the garage door for air and light and my dog Tracy hangs out in the sun on the driveway. Heaven.