Drawing Class #2 and #3
Posted on February 12, 2014 by Michele in Drawing

Yes. I'm behind but starting to catch up. One more assignment before Friday! It's been really interesting to observe myself avoiding drawing or painting. This last week it was the two-day book arts class I taught, which I admit took much longer to prepare for than I expected. This particular avoidance tactic is a vast improvement over ironing or cleaning out the refrigerator. Assignment #2 was to work with greens and draw a leaf. I was lucky, I would find something green outside whereas others in the class (national and international) couldn't find anything outside that wasn't white and frozen solid. We are blessed here behind the Redwood Curtain. So. Here is my geranium leaf plucked right off our front deck.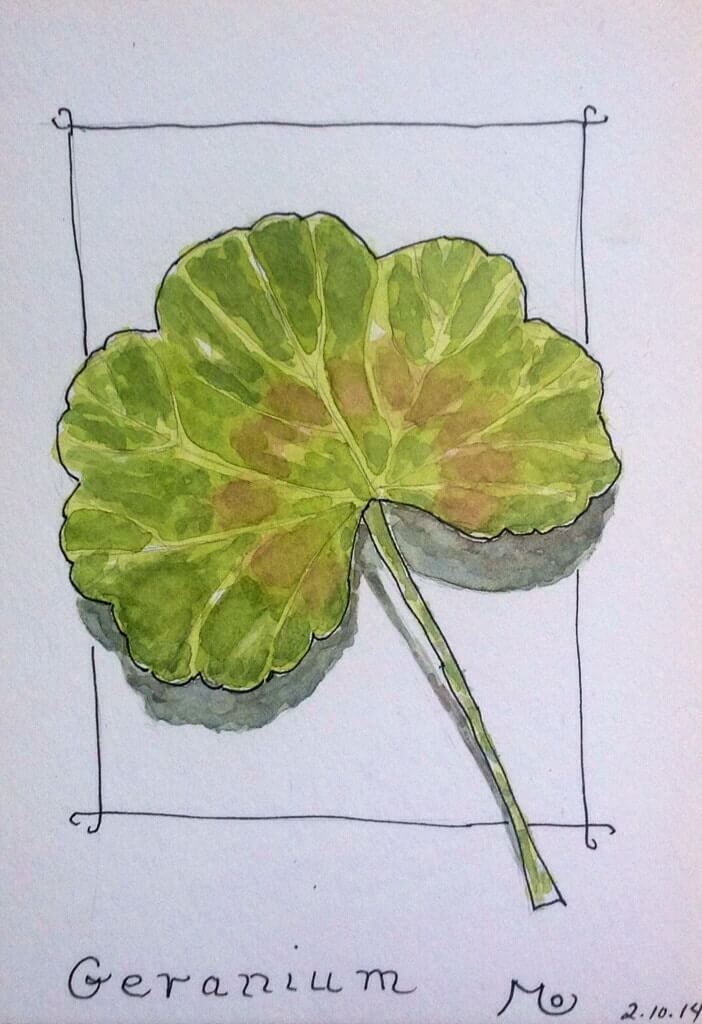 Assignment #3 was to start my drawing with a pen. No pencil to help me feel more secure before using something permanent—before I committed myself to something completely unrecognizable. I tried a thistle first but that felt too…prickly. I ended up with a stuffed animal who really didn't mind if no one could recognize him. He is Hobart, given to me by daughter, Robyn, so that I could try taking care of a pretend dog before we got our real dog. Hobart was unwrapped at our Christmas in Hobart, Tasmania. His painted nose is a bit heavy and seems to drag his face down but you can tell in his eyes, that he understands that I had to commit to the nose once it was drawn. He is understanding like that.