Blizzard Book
Posted on September 1, 2013 by Michele in Current Workshops, My Books

I have a book that is part of the International Printmaking Conference in Dundee, Scotland. My book Equations is near the bottom of the table on the right edge. This is a book I made for an international exchange. One never knows where our books may show up! This is exciting and thanks to my friend Ellen for bringing it to my attention. I used a gelatin plate and printing inks to print plants from Humboldt County, California. These images were then enhanced using Photoshop. The wooden covers are made from recycled Bubinga and the pages were inserted into a Blizzard structure.

I love book arts!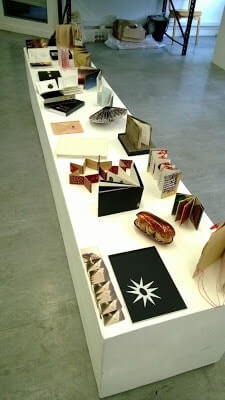 I will be using this structure as a model for an OLLI class on this fun book.