French Link Stitch with Wood
Posted on January 17, 2016 by Michele in Current Workshops, Photography, Sewn Spine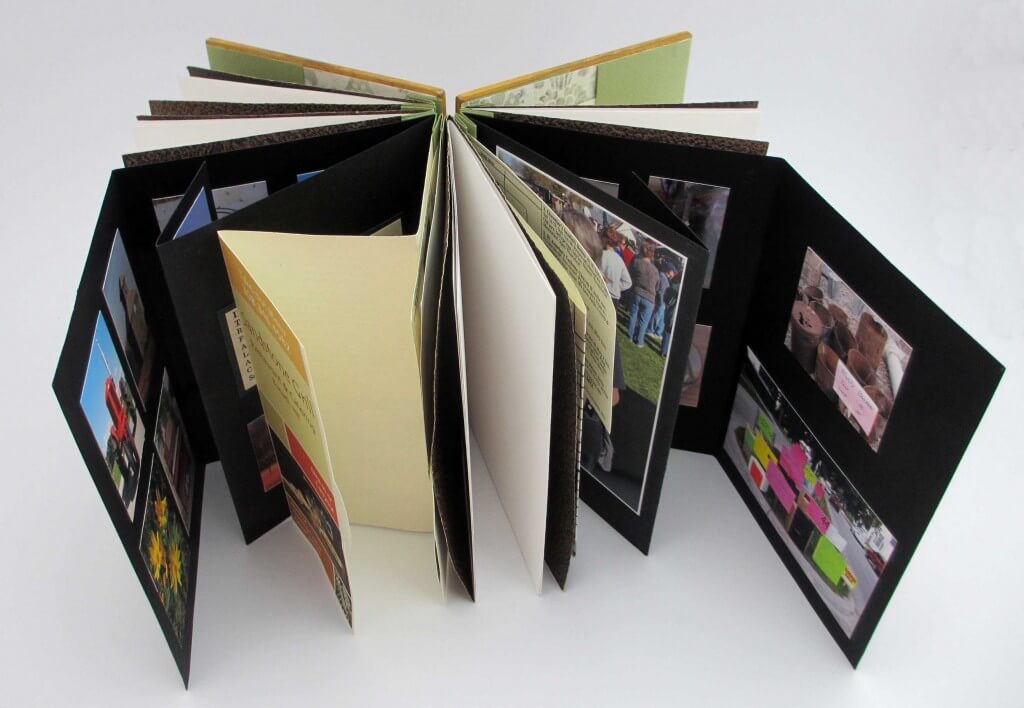 OLLI Book Arts: The "What's It" Book
I'm calling this structure a "What's It " book because it's a creative space for organizing anything you treasure. These make great planning journals with pullouts for photos, a couple of pockets, and sections for writing. The accordion spine provides expansion space for attaching tickets, packets, flyers, etc. Everything is sewn together using either the long stitch or French link stitch and the wooden hand-painted covers make it very durable. PLEASE NOTE THIS IS A THREE-AFTERNOON CLASS and most of our time will be spent assembling the structure! Some homework too.
Materials List: Bring to the first day of class.Basic Toolkit: Cutting mat, small utility knife, metal ruler, bookbinder's awl, sewing cradle (or old phone book), bone folder, small sharp scissors, sharp pencil, #20 or #22 tapestry needles, waxed linen or embroidery thread, PVA glue, glue brush, baby wipes, rags, waste paper, 125- and 220-grit sandpaper, two 2″ foam paint brushes. Materials: Pad of sketching paper (11″ x 14″), 1 sheet black Mi-Tientes, 1 sheet colored Mi-Tientes. Several sheets of decorative card stock. Optional: Electric handheld drill (Dremel) with drill bit slightly larger than tapestry needles (1/16 inch drill bit for wood).
Level: Intermediate. Previous Basic Book Arts course required.
Day & Date: Thurs., March 10, 17 & Tues. March 15
Time: 1-4 p.m.
Fee: OLLI Members $65
Class #: 27852: REGISTER ONLINE
Location: Humboldt Bay Aquatic Center