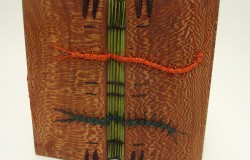 Posted on December 17, 2015 by Michele in My Books, Sewn Spine

My Fall stay in Nebraska was very productive in terms of reading books (seven!) and making books (four!). Two of my books were created for future OLLI workshops so you will see those at the end of January. The book I enjoyed the most was created from lacewood boards (a gift from my woodworking […]

Continue Reading...
Posted on September 29, 2014 by Michele in Sewn Spine

The wedding guest book is finally done. The covers were drilled and sections assembled in California; coptic stitch was sewn in the car (mostly in Nevada on I80); and the headbands, rocks and redwood stick were attached at Horsecreek Ranch in central Nebraska. The bride and groom used the bed of a vintage pickup to […]

Continue Reading...
Posted on June 5, 2013 by Michele in Mentors, My Books, Sewn Spine

My two children live in San Diego and I'm always looking for an excuse to go down to visit. I have loved Daniel Essig's books for years and the idea that I could actually see and handle his books was reason enough to book a flight. Even better, he was offering a three day workshop […]

Continue Reading...