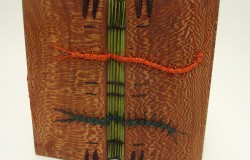 Posted on December 17, 2015 by Michele in My Books, Sewn Spine

My Fall stay in Nebraska was very productive in terms of reading books (seven!) and making books (four!). Two of my books were created for future OLLI workshops so you will see those at the end of January. The book I enjoyed the most was created from lacewood boards (a gift from my woodworking […]

Continue Reading...
Posted on November 17, 2015 by Michele in How-To, Studio

With heavy winds and lots of rain on our North Coast we have enough fallen leaves to use for hundreds of boiled books. Sandy, Michele (the Younger), and I converged on Michele's backyard to make a sandwich out of leaves and Bristol paper sheets. Michele had a great selection of dried leaves in a homemade […]

Continue Reading...
Posted on January 30, 2014 by Michele in Eco Dyeing, Studio

It was an eco dye playday yesterday with friend, Sandy. Inspired by India Flint's Eco Colour. We used dried and fresh vegetation—huge surprise that the dried leaves left so much color. We used Stonehenge printmaking paper and Watercolor paper with leaves packed in between sheets. The sandwiches were bound together then boiled for 1.5 hours […]

Continue Reading...