Basic Toolkit
Posted on January 14, 2013 by Michele in Basics, Tools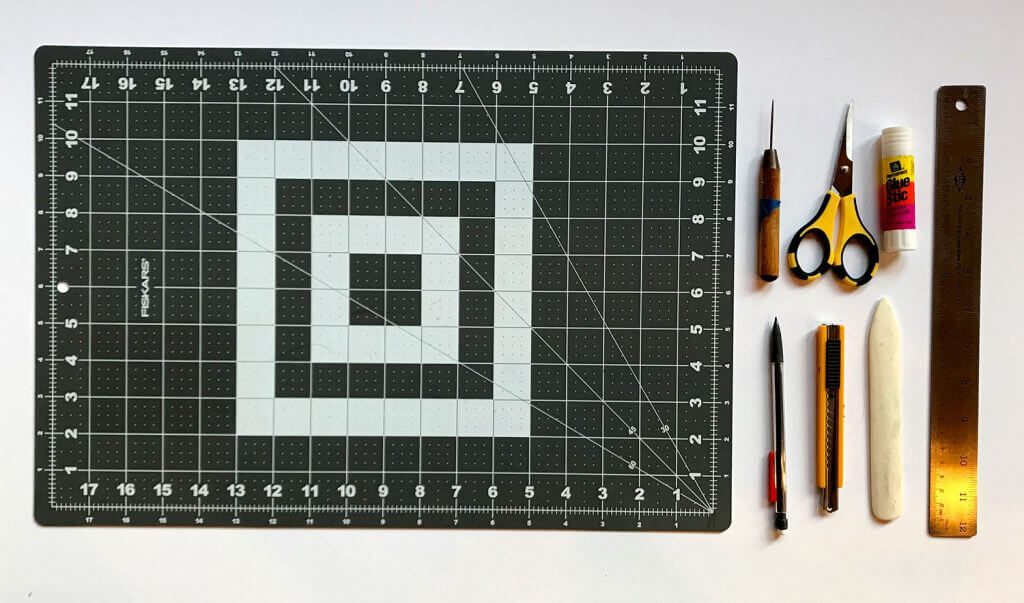 Every book artist has their favorite tools for cutting, folding, and gluing paper. The tools pictured are some of the basics that you will need in most workshops.
Metal Ruler: Cutting tools can cut into wooden and plastic rulers and damage the straight edge.
Cutting Mat: These come in all sizes. The one above is a self-healing mat that doesn't damage the blade of your cutting tool and is useful for small pieces of paper. Some people use cutting mats designed for quilters. In a pinch, you can use an old phonebook to cut on.
Cutting Tool: I prefer the type pictured above—they have blades that snap off when they get dull. Big box cutting tools can damage your mats. I also have a scalpel I use for precision cutting.
Small Scissors: These need to have pointed tips to make precision cuts.
Bone Folder: The one above is the most common shape. They are useful for pressing folds in your papers. In a pinch, a dull straight surface such as a flat edged wooden spoon will work.
Sharp Pencil: You will need to make accurate marks with thin lead. If you do not have a mechanical pencil bring a pencil sharpener with your pencil.
Glue Stick: This adhesive is fine for beginning book artists. Some are archival and they don't add a lot of moisture to your paper (which tends to warp it). Double-sided tape is also good.
Bookbinder's Awl: These awls have an angled point with a straight shaft. They are used for piercing sections in preparation for sewing.
To purchase these supplies, use this Resource List for local and online stores.