Resources for Humboldt County Book Artists
Posted on January 10, 2014 by Michele in Basics, Miscellaneous, Resources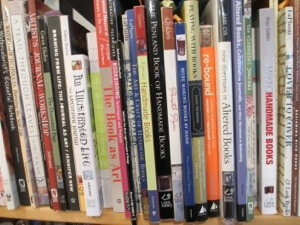 LOCAL STORES
The Art Center, 823 H Street: Art and book art supplies; large sheets of decorative, printmaking, drawing, and watercolor papers.
All Under Heaven, 735 8th Street: Calligraphy supplies, inks, and beautiful rolls of paper from Asia.
Solutions, 858 G Street: Letter sized papers such as cigar, mango, and elephant poo!
SCRAP, 101 H Street : Recycled art supplies, mat and museum board, and embellishments for books.
Humboldt State University Bookstore. It's the only place I found Bond paper for backing my handmade book cloth. They have many other items.
Heart Bead, 830 G Street: Lots of beads and embellishments for books.
The Sanctuary, 1301 J Street: In an attempt to make artistry more accessible to the general public, the Sanctuary provides essential resources that would not otherwise be available to artists and makers with limited space, tools, or knowledge. They have a printmaking lab with presses and type.
ONLINE RESOURCES:
GUILDS: (all provide workshops):
EVENTS: