Repairs
Posted on December 7, 2019 by Michele in How-To, Miscellaneous

I haven't posted anything for a year while taking a sabbatical from book arts. Actually, not quite true because I made a guestbook for the wedding of dear friends, and I've made three title books for new babies of family members.

I have recently been lured back into the studio to repair (I won't say restore) a three Books of Common Prayer from St. Alban's Episcopal Church, Arcata, California. This was a test run – there are more. I have no background in conservation or restoration so I just used what I knew about the construction of case bound books.

First, these are the problems: Sections that are heavily used come loose from the spine due to failure of the glue, hinges on the cover and the fore edge are just worn out.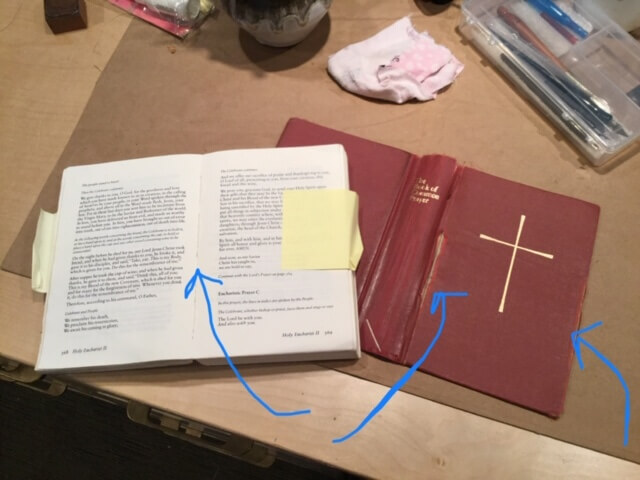 In order to access the spine I had to separate the text block from the covers. You can see that the text block is completely broken and has strained the stitching. In addition the mull (looks like cheesecloth) has separated from the spine of the text block – a complete failure of the glue.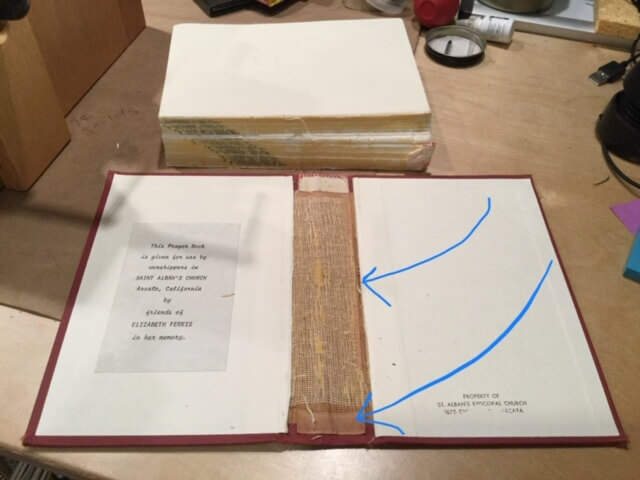 The text block is clamped into a finishing press. The stand provides a secure gluing angle and the pressure prevents glue from seeping in between the sections.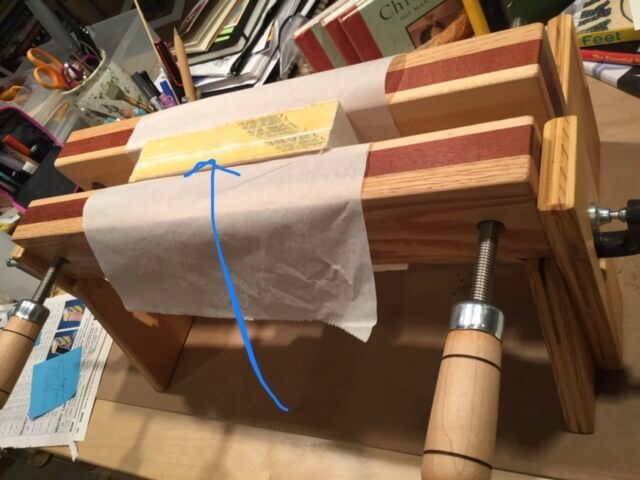 After PVA was brushed onto the spine, the headbands were reattached and new mull applied to the spine. The overhang of mull serves to strengthen the hinges once the covered is glued back on.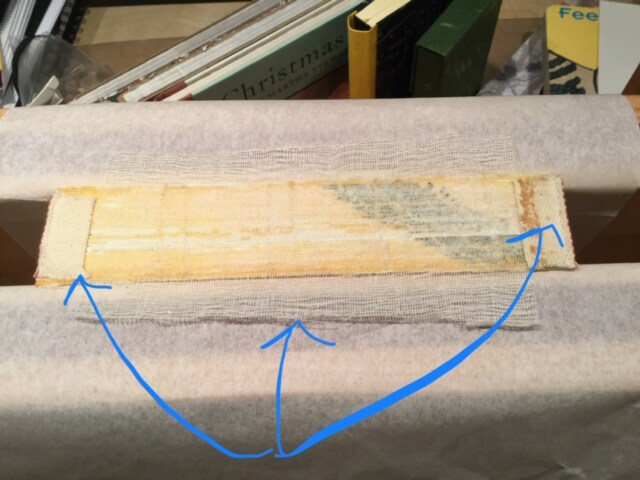 In order to secure the loose sections I used fine linen thread and a pamphlet stitch to secure those sections to the newly strengthened spine.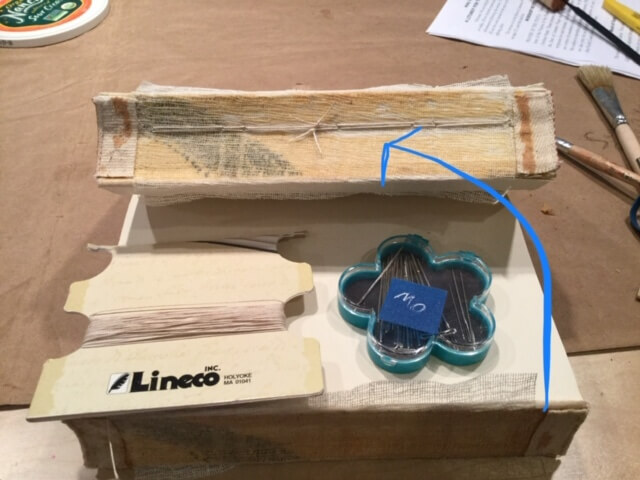 Next the covers needed repairing. I glued green book cloth strips to the insides of the covers to strengthen the spine and then added cranberry colored book cloth over the top of the old book cloth to strengthen the hinges. N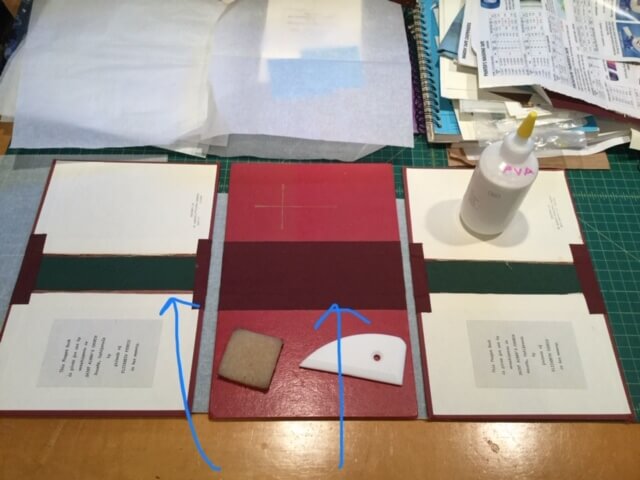 The mull tabs were glued to the text block and the block was positioned on the inside of the covers. The hinge was glued to the front and back of the text block.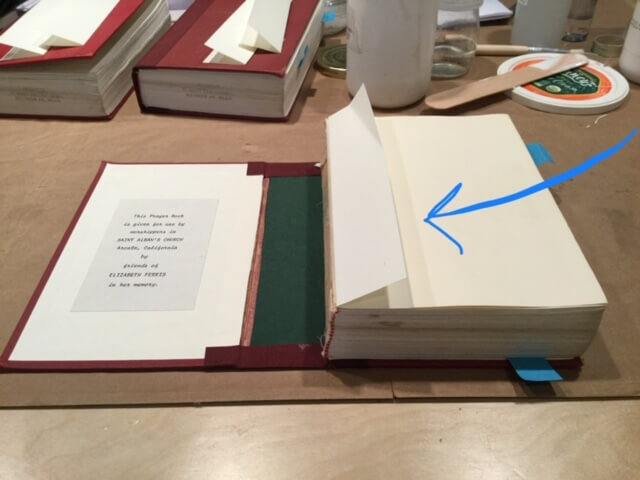 Then then the top of the hinge was glued using a glue guard (PVA really stains and can make a hugs mess). Then – and this is the nerve racking part where all can go wrong – the left side of the book is closed over the top of the glued hinge. Repeat on other side.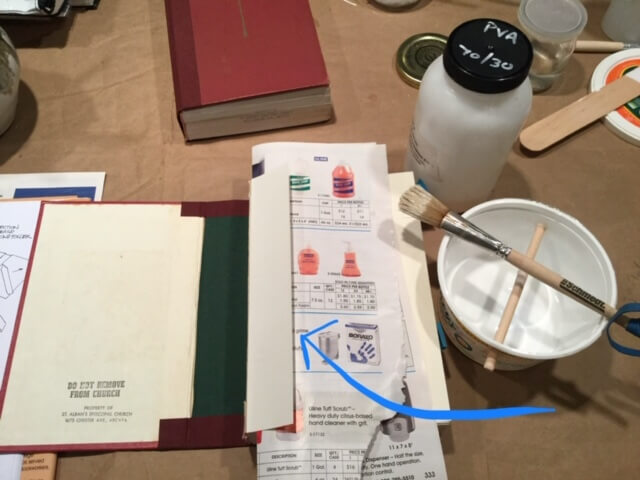 Lastly! Protective papers are inserted into the insides and outsides of the book and the entire book is inserted into a book press. Book press #1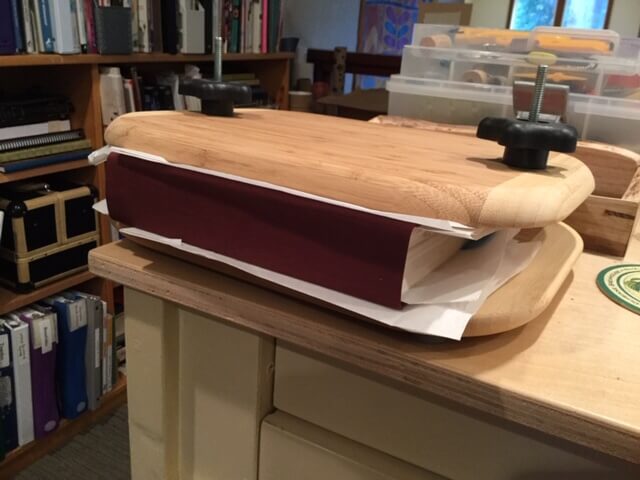 Book Press #2 holds two books and bricks and sad irons provide the weight.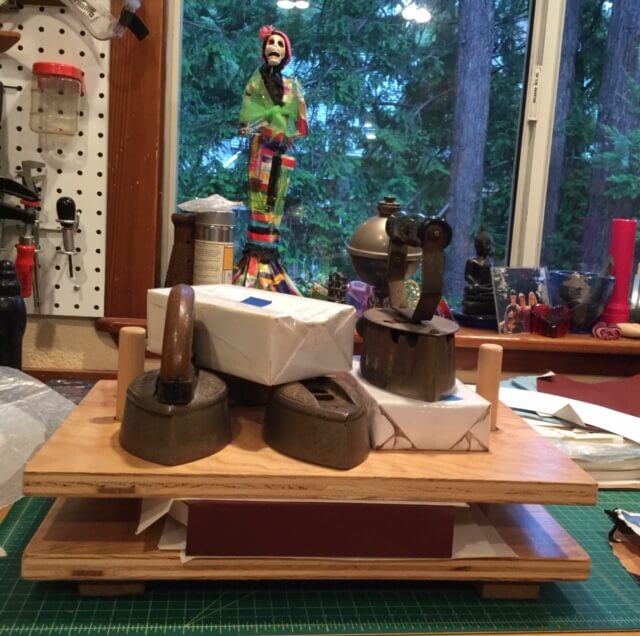 Final book!