Redwood Journal
Posted on December 1, 2016 by Michele in Sewn Spine

When I headed to Nebraska this Fall I had already committed to making a book for the Humboldt County Library Foundation auction to be held December 5 at the Ingomar Club in Eureka, California. I had an idea of what I wanted to make and I brought an abundance of materials along so that I could have choices. I love working in my studio in rural Nebraska; I've  done some of my most creative work isolated from people, phones, and internet. I had almost completed the book when I discovered that one of my favorite artists Karen Kunc was offering a class in boxmaking in Lincoln, Nebraska, and this was no ordinary box! I was thrilled to take yet another class from such a talented artist and teacher. So. I built a box for the book.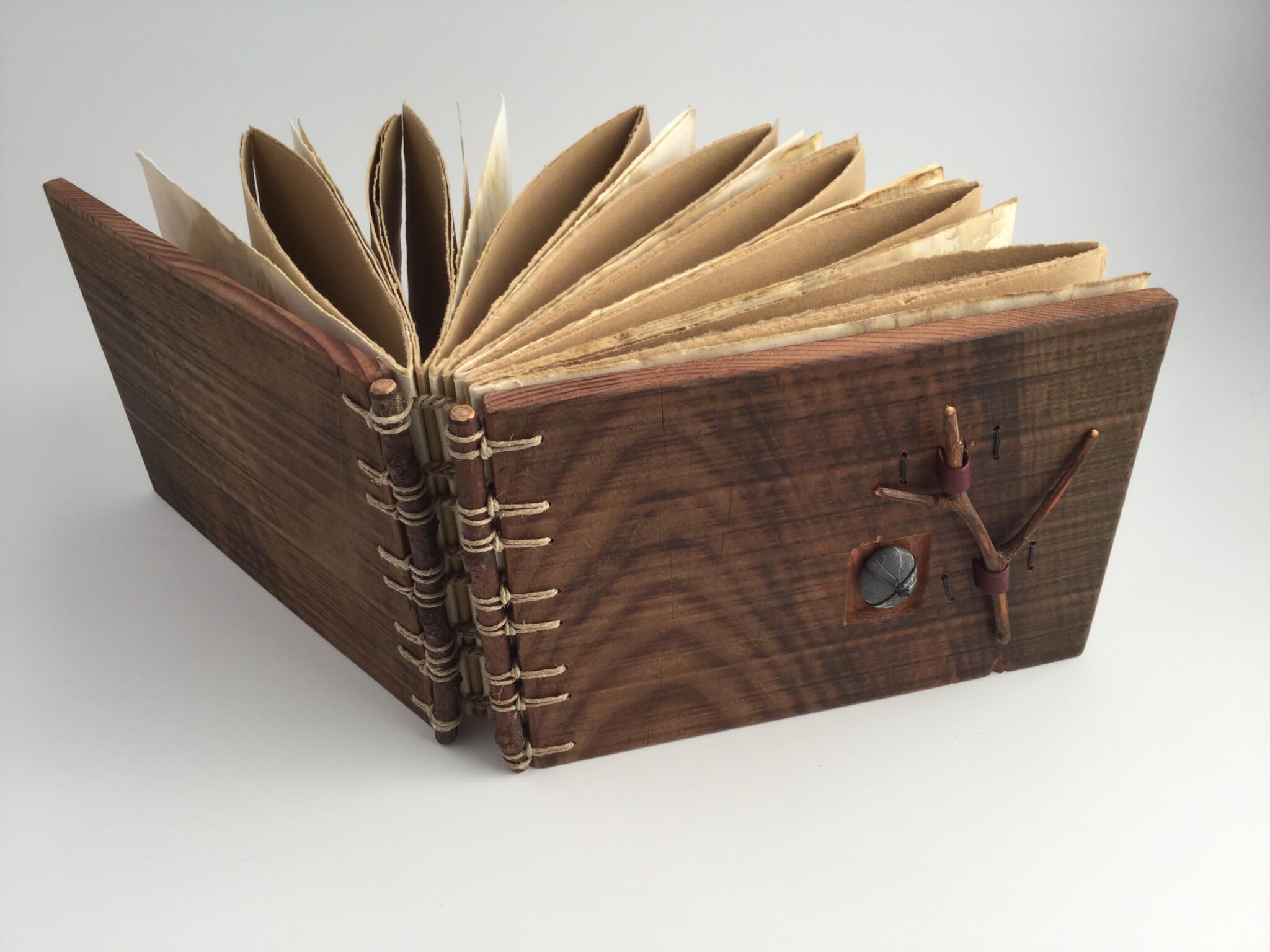 The Coptic bound book is made from old growth redwood boards rescued from the 1905 carriage house of Liz Murguia, president of the library foundation board. The apple twigs come from a 50 year old Gravenstein apple tree belonging to Sara Traphagen, vice-president of the library foundation board. The book structure was inspired by another wonderful book artist and teacher Margo Klass.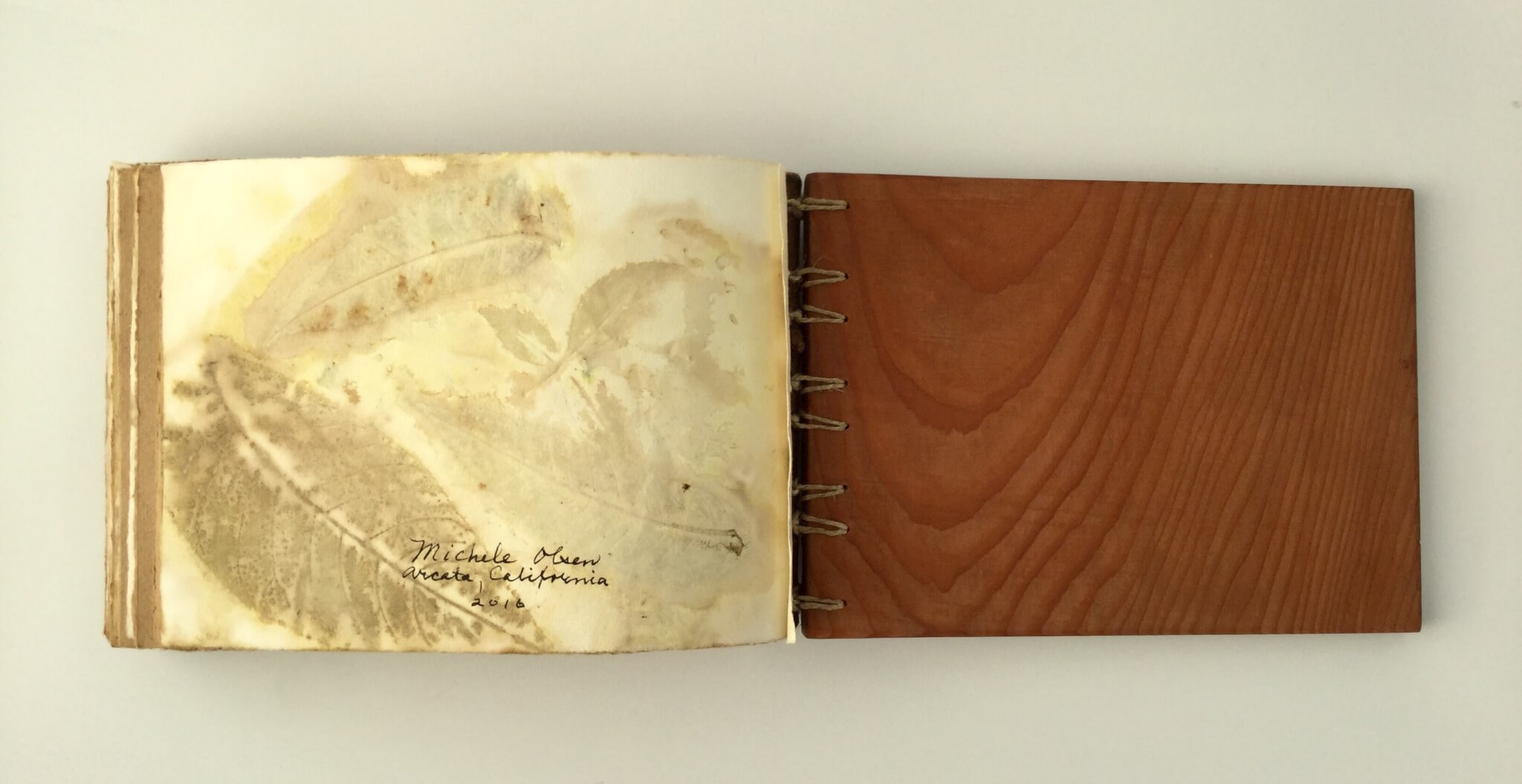 The thread is heavy natural flax, the pebble comes from the Mad River Beach, and the sections inside were constructed  from German Ingres paper wrapped in eco-dyed papers.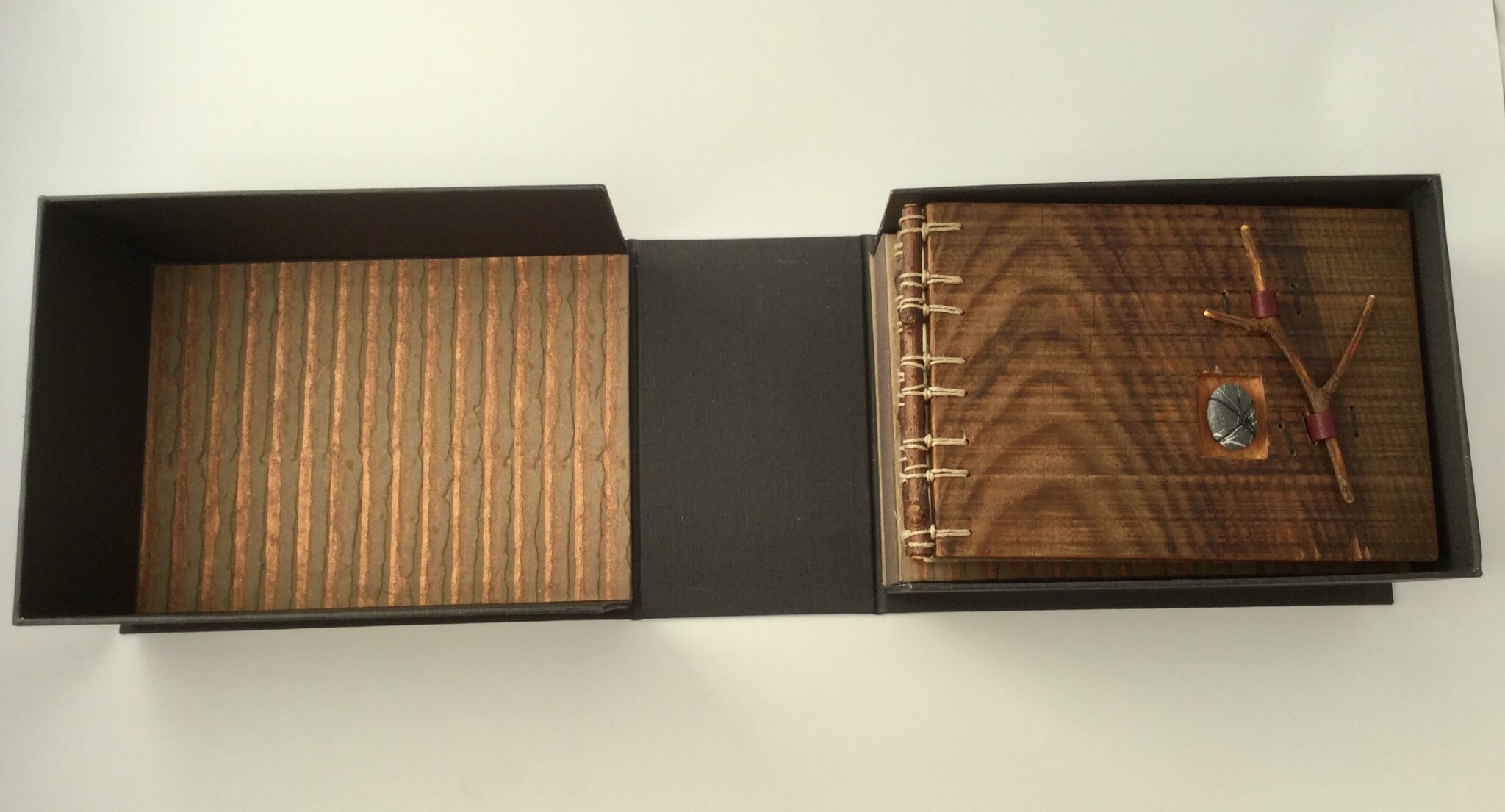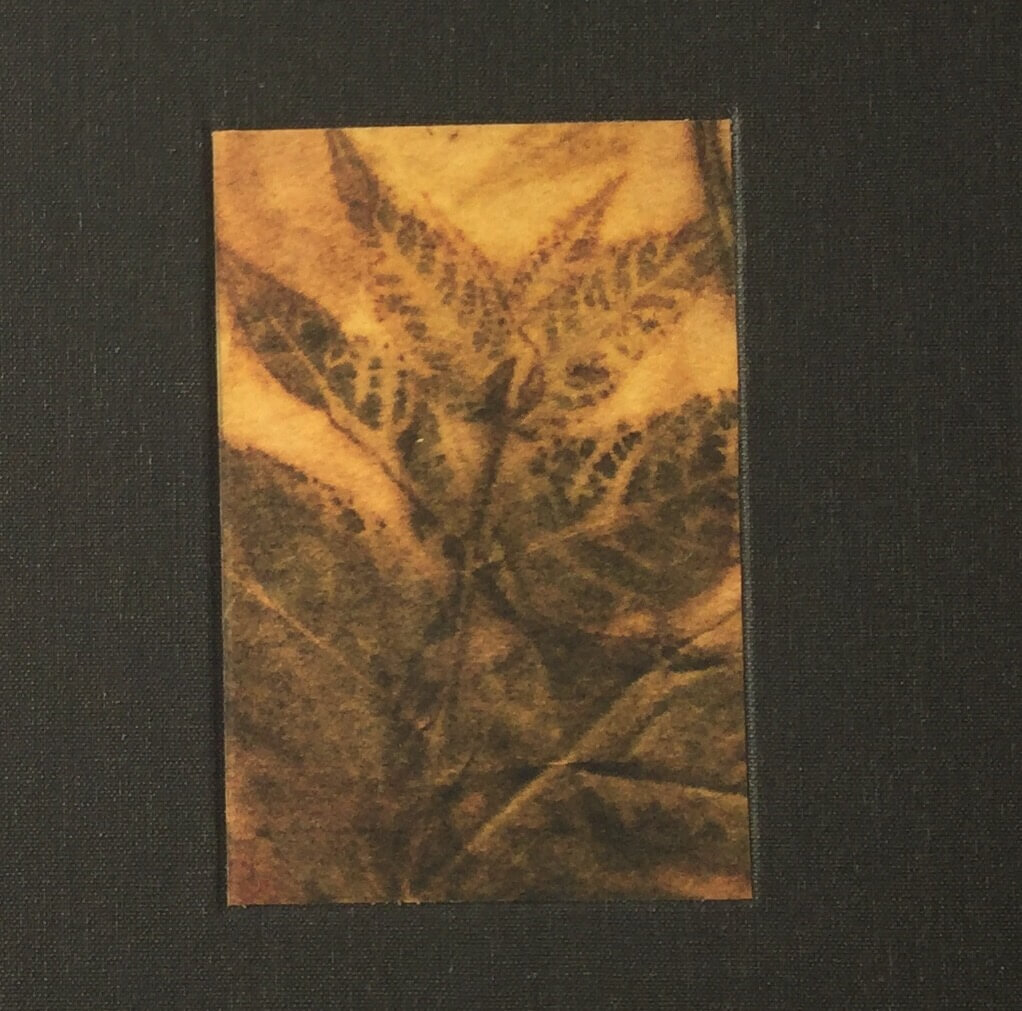 The clamshell box is covered with linen book cloth with recessed niches for eco-dyed papers on the front and spine.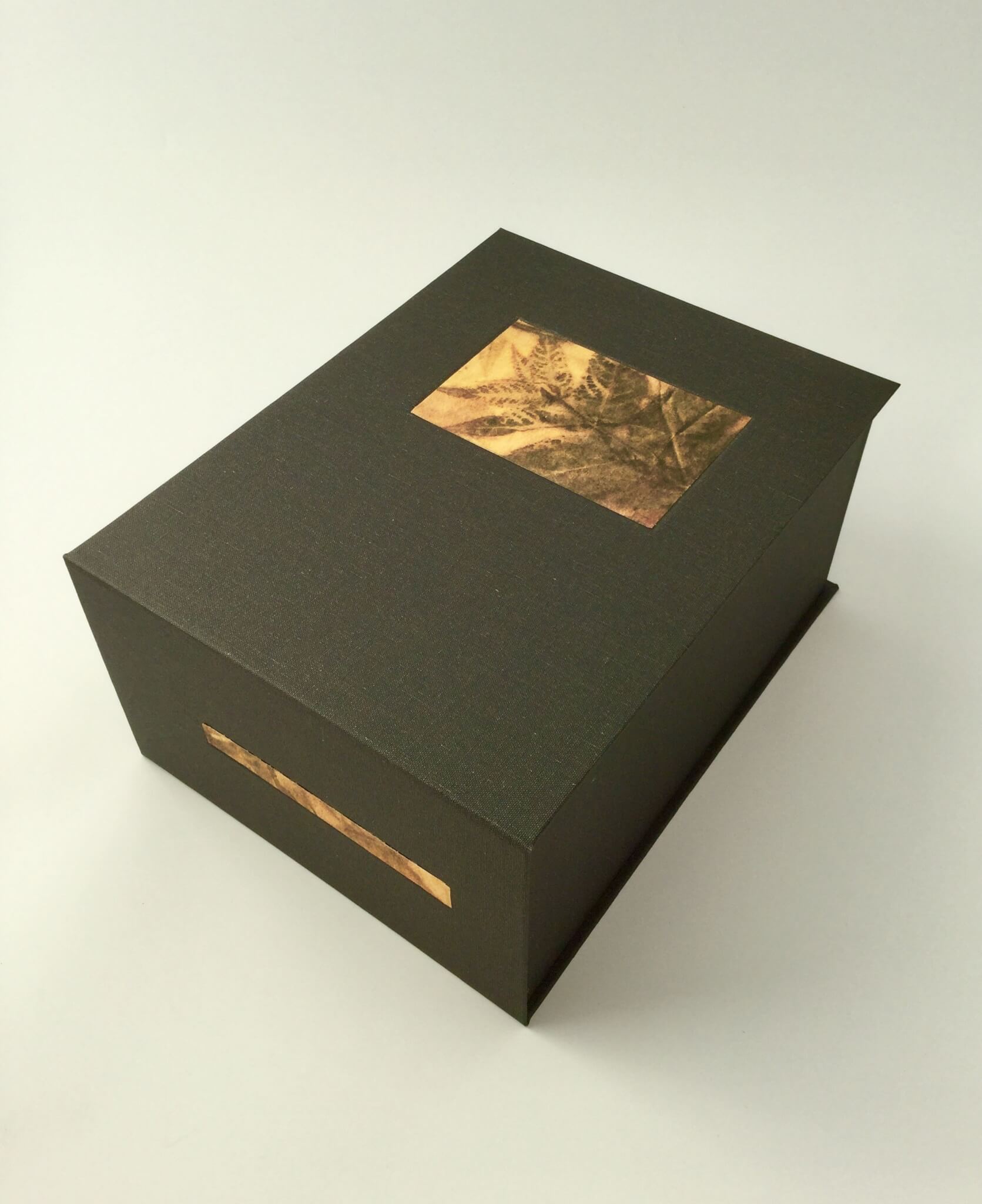 When the book and platform are removed a tray is revealed which can also be removed. Whoever wins the bid on this can write in the journal and store their treasures in the tray. This is a fairly large box (9″ x 7″ x 4.5″) and I have plans to make a series of smaller ones. I'm always surprised by the completed project as I never know what I will create when I start out. I love the mathematical and logical ways of putting things together but it's the unpredictability of the artistic opportunities that are the most exciting. Here is hoping that the auction brings in lots of money to support the purchase of non-fiction books for children – this year's project.