Posted on December 18, 2015 by Michele in Sewn Spine, Workshop Followup

Our OLLI class Book of Words: Coptic Stitch was officially completed last week but as we usually do, we assembled at Humboldt Coffee and Chocolates for "debriefing" and sharing. As always, it's a privilege to work with such talented and daring people. Adding a window to the cover was optional but everyone wanted to make […]

Continue Reading...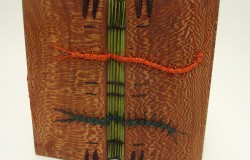 Posted on December 17, 2015 by Michele in My Books, Sewn Spine

My Fall stay in Nebraska was very productive in terms of reading books (seven!) and making books (four!). Two of my books were created for future OLLI workshops so you will see those at the end of January. The book I enjoyed the most was created from lacewood boards (a gift from my woodworking […]

Continue Reading...
Posted on December 6, 2015 by Michele in Current Workshops, Sewn Spine

It's time for the last book arts class of the HSU OLLI Fall 2015 Semester! Course Description: Explore the written word as an art form as you create pages for your small book. Bring your favorite writing or drawing tools — pens, watercolor, stamps, or colored pencils — to decorate the pages. The structure is […]

Continue Reading...